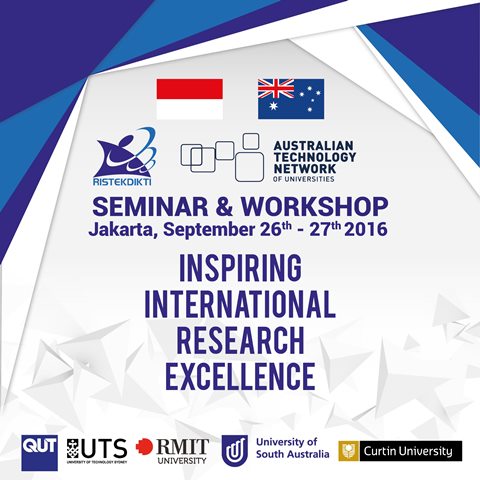 Dalam rangka meningkatkan kualitas dan kompetensi sumber daya manusia, khususnya dalam mendukung studi lanjut, kolaborasi penelitian dan publikasi internasional, serta guna mendukung agenda riset nasional, Ditjen Sumber Daya Iptek dan Dikti bekerjasama dengan Australian Technology Network (ATN) of Universities akan menyelenggarakan seminar dan workshop dengan tema "Inspiring International Research Excellence".
Kegiatan ini akan menghadirkan beberapa pakar penelitian dari anggota ATN, yaitu Queensland University of Technology, University of South Australia, Curtin University, RMIT University dan University of Technology Sydney.
Bagi Bapak/Ibu Dosen dan Peneliti yang berminat mengikuti kegiatan tersebut dapat mendaftarkan dirinya paling lambat tanggal 20 September 2016 melalui link berikut; Daftar Seminar dan Workshop ATN.
Unduh : Undangan Seminar dan Workshop "Inspiring International Research Excellent"